Hibino
Brooklyn

333 Henry Street, Brooklyn,
NY 11201


@ corner of Henry & Pacific
Tel 718-260-8052
hibino.restaurant@gmail.com
Japanese restaurant serving:
Fresh homemade tofu, Kyoto style obanzai (Japanese tapas), and sushi in both traditional and new style.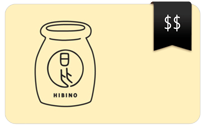 Now you can purchase HIBINO Gift Certificate online
We're open for dine-in dinner and lunch.
Dinner reservations can be made via
Lunch
Mon–Fri 12 noon–2:30 pm
Dinner
Mon–Sat 4:30 pm–9:00 pm

We serve wine, beer, and sake.
We take Master, Visa, and American Express Card.