Hibino
Brooklyn

333 Henry Street, Brooklyn,
NY 11201


@ corner of Henry & Pacific
Tel 718-260-8052
hibino.restaurant@gmail.com
Japanese restaurant serving:
Fresh homemade tofu, Kyoto style obanzai (Japanese tapas), and sushi in both traditional and new style.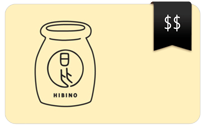 Now you can purchase HIBINO Gift Certificate online

We're open for take out only.
Lunch
Mon–Fri 12 noon–2:30 pm
Dinner
Mon–Sun 4:30 pm–9:00 pm *updated 7/13/2020

We serve wine, beer, and sake.
We take Master, Visa, and American Express Card.
We don't take reservations. Come by and walk in!